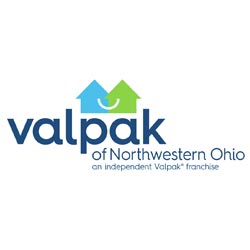 Valpak of Northwestern Ohio invites you to effectively promote your small business through Valpak direct mail advertising and digital marketing solutions. Today, businesses must adopt a multichannel approach to marketing and Valpak offers all of the tools you need to do just that, from targeted direct mail to custom business website development. Why use multiple providers when you can can rely on Valpak of Northwestern Ohio to supply all of your small business marketing needs?
Since 1968, the Blue Envelope® has been welcomed by thousands of qualified households in the Toledo area each month. Valpak's targeted, shared direct mail solutions are affordable and fully customizable. You can mail once a year or once a month – or every now and then. You can also choose the type of printed insert that works best for your small business:
Valpak works for all types of businesses including home improvement, restaurants, retail shops, automotive, professional and general services, entertainment and travel, and beauty and wellness. You can also target down to the neighborhood with our NTAs. Neighborhood Trade Areas are groups of 10,000 households that are combined based on geodemographics, postal carrier routes and income so that you can target your campaigns to customers most likely to provide better ROI.